Press Release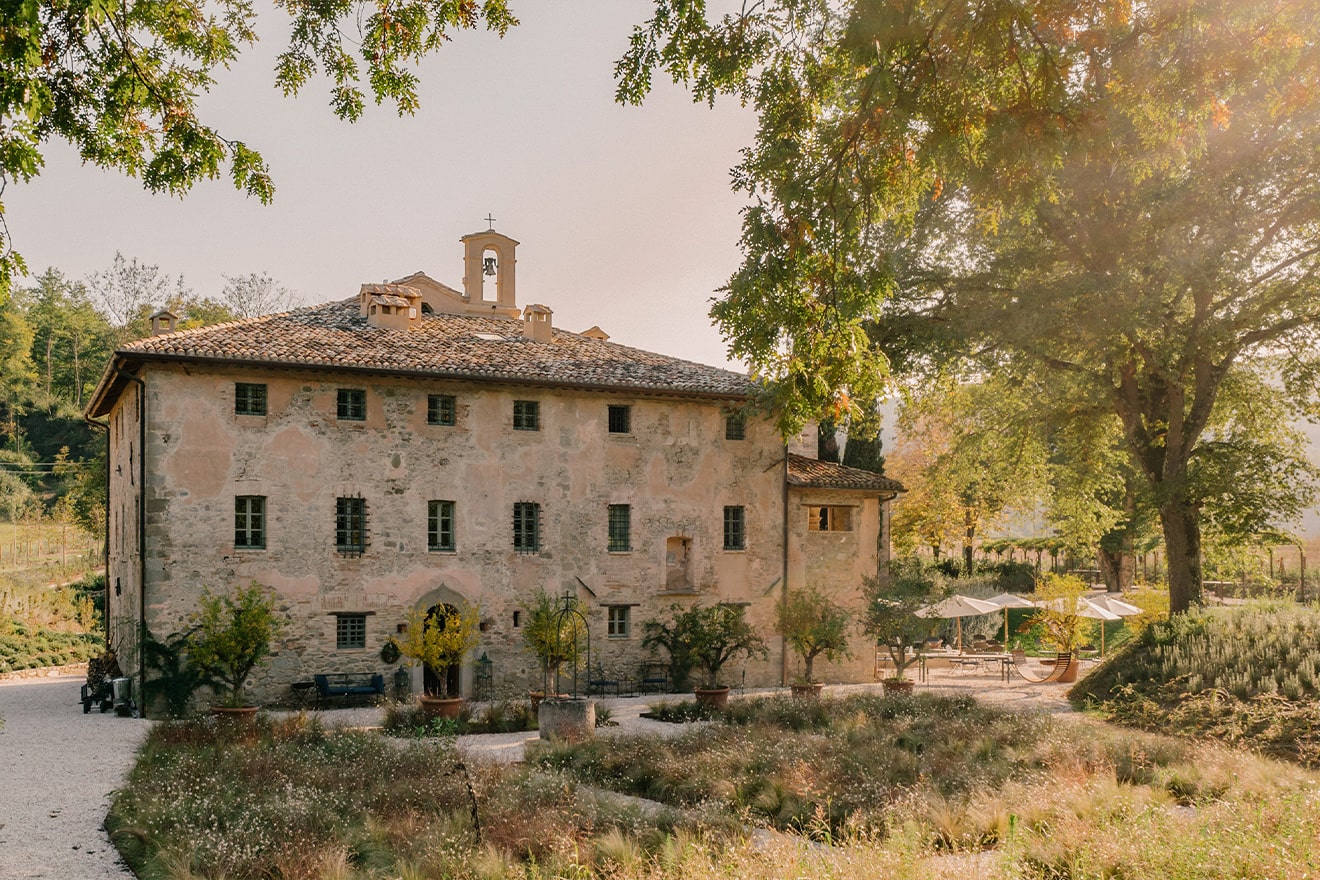 Introducing Eight New Members of Design Hotels

TM
From historically renovated structures dating back to the 12th, 18th, and 19th centuries in Italy, Spain, and Montenegro to modern architectural masterpieces in Greece and Indonesia, the newest members of Design Hotels share a common goal: to honor and preserve their surrounding landscapes and cultures. Each of the following eight properties reflect this ethos through distinctly contemporary lenses, creating unique destinations that foster individual experiences as well as intimate feelings of community.
Located in Bad Gastein, a picturesque town in the Austrian Alps, The Cōmodo strikes a perfect balance between creativity, rejuvenation, and nature. The year-round destination is framed by forested cliffs and gaping valleys, with an overarching design vision to echo the beauty of the surroundings and honor the timeless aesthetics of 1960s and 70s. Vintage mid-century modern furnishings are expertly curated among bespoke pieces, unique artworks, and site-specific lighting installations. Its 70 rooms come in a range of sizes to meet every guest's needs, while the onsite farm-to-table restaurant, spa, boutique cinema, and summer garden round out the luxe offerings.
Also celebrating its natural surroundings is ORA Hotel Priorat in Torroja del Priorat, Spain. Set in an 18th-century abbey, the 13-room property embraces the lifestyle of the region's wine country and acts as an ideal gateway to the nearby rolling hills, fine cuisine, and timeless traditions. Baroque arches, pillars, and ceilings guide guests through corridors that open up to both austere and welcoming spaces, including guestrooms and the in-house restaurant. Rooms feature wood floors and dark tiles that play off bright walls and black-iron-framed glass doorways, alongside custom furniture, including green velvet sofas and wood-and-rattan headboards. At the restaurant, locally inspired, handmade dishes are made primarily with ingredients from an onsite garden and paired with the best Priorat wines.
From ingredients used in the restaurant to an iron pergola to bespoke furnishings, everything at Vocabolo Moscatelli in Umbertide, a village in Umbria, is locally sourced and produced. Housed within a 12-century monastery, faithfully restored by Jacopo Venerosi Pesciolini of studio Archiloop, and centered around a piazza with a historical church, the property feels like a miniature Italian village in and of itself. Original stone and brick structures are augmented by crisp, contemporary lines in the 12 guestrooms and suites, each of which is individually designed with custom furnishings by Samarreda and Tosconova. Outside, a 30-meter pergola, forged by the century-old Italian blacksmith brand Lipsi, stretches back to a grove where the Arboreal Archaeology Foundation has planted forgotten fruit trees native to the region.
Further south in Italy, Rome's Palazzo Velabro is situated in a residential historical area ideal for visitors who want to discover the city and live as a Roman. Housed within an 18th-century palazzo that was renovated by world-renowned architect Luigi Moretti in 1960, everything inside was custom-made in Italy with nods to the structure's history: frescoes by young Italian artists adorn the walls, Garbellotto crafted wood flooring, and sofas and textiles were created by Quinti and Moroso e Pedrali. Additional features include ribbed and curved walnut wood boiserie—an homage to décor of the 1940s and 50s—as well as timeless marble fixtures in bathrooms and public spaces.
Elsewhere, Mamula Island reimagines a previously uninhabited islet and 19th-century fortress off the coast of Herceg Novi, Montenegro. The historically renovated structure is paired with bespoke, modern furnishings to provide guests with a sophisticated one-of-a-kind experience—one that is replete with a fine-dining restaurant offering a continually changing, seasonal menu, two all-day eateries with more casual fare, a lavish spa in the former fortress tower, three fresh- and saltwater pools, and a serviced beach. All of this and more is encircled by sea and sky, with far-reaching views of the crystal-clear waters of Bay of Kotor—a UNESCO World Heritage Site—and wild scenery beyond.
Also looking out over a picturesque sea is the three-villa property Pnoēs Tinos, the titular Greek island's first true luxury design destination. The concept was conceived and overseen entirely by famed architect Aristides Dallas, resulting in architecturally stunning villas that respect and reconnect guests with three essential elements: earth, wind, and water. Each villa features exclusively bespoke furnishings spread across two bedrooms, a private pool, a cooking and living area, an expansive outdoor lounge space, and an organic garden with edible fruits, vegetables, and herbs for guests to harvest. Beyond relaxing and indulging, here guests are encouraged to actively create their own experiences and engage with the surrounding Cycladic culture and landscape of the Lagkades valley.
In Indonesia, Somewhere Lombok offers an unspoiled retreat tucked away on a hillside along the southern coast of its eponymous island. Imagined, designed, and run by sisters Valia and Claire Gontard, the hotel features communal areas that open to unparalleled views of Are Guling Bay, a world-renowned surf spot, and 20 standalone villas with mini plunge pools overlooking the greenery of the valley and village below. Inspired by such natural surroundings, the architecture was handcrafted from locally sourced materials and furnishings and décor were sourced from a network of local craftspeople, artists, and small businesses—combining to lead guests on a mindful journey into Indonesia's culture and environment.
On the southeastern Indonesian island of Sumba, conscious travel, authenticity, and community unite at Cap Karoso. Surrounded by towering cliffs, turquoise lagoons with coral reefs, and uma mbatangu houses with soaring 25-meter-high roofs, the property brings French-led culinary excellence, contemporary Indonesian art, and modernist buildings together with traditionally styled pavilions, ikat woven textiles, and crafts made locally with age-old techniques. Accommodations range from rooms to suites to two- and three-bedroom beach houses, while a fine-dining restaurant—always helmed by a visiting international chef—serves dishes created with produced sourced from the Cap Karoso Farm and other local suppliers. Beyond feeding the kitchen, Cap Karoso Farm also feeds the minds of locals and guests through an artist-in-residence program, craft ateliers, sustainable landscaping workshops, and more.
Design Hotels AG
Stralauer Allee 2C, 10245 Berlin, Germany
designhotels.com

About Design Hotels
Design Hotels™ represents and markets a curated selection of over 300 independent hotels in more than 60 countries across the globe. More than a collection of hotels, the company is a collection of stories. Each property reflects the ideas of a visionary hotelier, an "Original", someone with a passion for genuine hospitality, cultural authenticity, thought-provoking design and architecture. Each "Original" stands for the individual, aesthetic and service-driven experience that his or her hotel provides.

In 2017, Design Hotels™ launched Further, a traveling laboratory for experiential hospitality that transforms hotels across the globe into temporal hubs of thematic exploration. The mission behind Further aligns with the values of the future-facing Promad, a new generation of traveler embracing progressive travel and global nomadism. First identified by Design Hotels™ in collaboration with leading futures consultancy The Future Laboratory, the purpose-driven, self-actualizing Promadic movement is set to shape the future of hospitality.

Founded by Claus Sendlinger in 1993, Design Hotels™ offers its members insightful travel industry knowledge, from market trend consultancy to international sales representation. The company has its headquarters in Berlin and branches in London, Los Angeles, New York and Singapore. In 2019, Design Hotels™ joined forces with Marriott Bonvoy, enabling its member hotels to have both a greater and more selective reach while offering its Community the benefit of the industry's leading loyalty program.

Notes for Editors
For high resolution images and more information on our member hotels, please register in the Design Hotels Virtual Press Office press.designhotels.com.

To download the images directly, please click here.

For additional information, please contact us via email press@designhotels.com or phone at
+49 30-8849 400 70.

For reservations, please refer to our website designhotels.com or find the appropriate Design Hotels toll-free number designhotels.com/toll-free-numbers.